Speakers
Systems
inMOVE 5.0 Print
Description
Specification
Finishes
Technology
Videos
Downloads

The inMOVE pack combines compact sized satellites and a center speaker to which one of high-power active subwoofers can be matched to creating the whole 5.1 system.

The system is dedicated to those fans of high-end sound who wish their systems physically "disappear" in a room.
Thanks to compact dimensions our systems allow easy placement and hiding speakers around a room.
Surely the sound will not be hidden – you and your neighbors would be able to hear and feel it!

Your room will turn into a cinema or a concert hall surrounding you with spacious, crisp clear and accurate sound with deep and impressive low tones and striking dynamics.

The system can be connected to an AV amplifier or a receiver or directly to a TV set with a built-in surround amplifier.
It is compact, elegant, powerful and affordable. Available in eye-catching modern finishes seem to be the deal of the century!
SATELLITE SPEAKER
Design
Satellite, 2-way, 2 drivers
TLIE enclosure TLIE
Crossover points: 2.4kHz
Power handling
20 - 80W (recommended amplifier power)
60W RMS
Frequency response
65Hz - 20kHz
Bassreflex
Rear single
Impedance
6ohm
Sensitivity
85dB
High-frequency driver
25 mm (1"), TWG
Bass-Midrange driver
76 mm (3"), TPAIC, TAVS
Features / accessories
Wall mount
Dimensions (H x W x D)
20 x 11.6 x 16.9 cm
CENTER SPEAKER
Design
Center, 2-way, 3 drivers
TLIE enclosure
Crossover points: 2.3kHz
Power handling
20 - 80W recommended amplifier power
60W RMS
Frequency response
65Hz - 20kHz
Impedance
6ohm
Sensitivity
85dB
High-frequency driver
25 mm (1"), TWG
Bass-Midrange driver
2 x 76 mm (3"), TPAIC, TAVS
Features / accessories
Wall mounts
Dimensions (H x W x D)
12 x 30.5 x 15 cm
Paint colours
High gloss black

Matt black

Matt white
Vinyl colours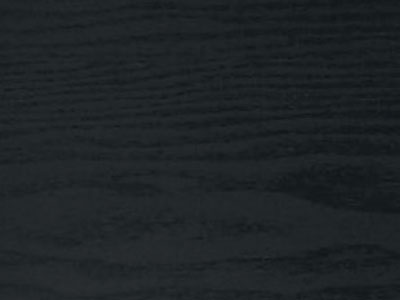 Black
CABINETS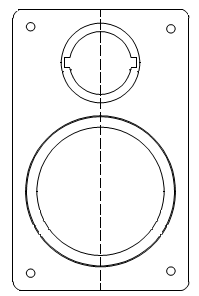 TLIE – Taga Low Interference Enclosures are made of high-quality 12mm thick MDF.
The rounded edges of cabinets are perfectly crafted not only to look wonderful and modern but mainly to lower any unwanted vibrations, diffractions or turbulences, which can affect the sound performance.
Acoustical damping material used inside cabinets eliminates problem of internal standing waves and flat, oval bass-reflex port is uniquely designed to reduce distortions to minimum.


HIGH-FREQUENCY DRIVER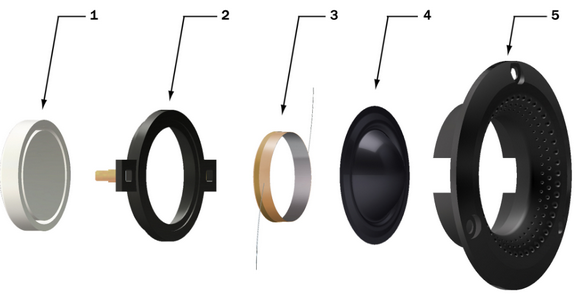 1. Magnet
2. Holder
3. Round wire copper voice coil
4. Silk dome
5. TWG Front faceplate

1" (25mm) silk dome tweeter with oversized Φ70 magnet, ferrofluid cooling and heavy duty voice coil can handle high power and its performance is very accurate, clear, smooth and detailed.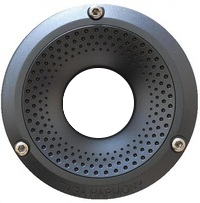 Specialized horn-like, TWG TAGA Waveguide design of tweeter's faceplate utilizing concave diffusers supports equal and flat dispersion of sound in and off the axis of the driver.


BASS-MIDRANGE DRIVER


1. Extra Magnet
2. T-Yoke /Pole piece
3. Main Magnet
4. Top plate
5. Terminal
6. TPAIC Aluminum injection-molded chassis with anti-oxidation surface process
7. Spider
8. Round wire copper voice coil
9. Polypropylene cone with rubber surround
10. Polypropylene dust cap

TAGA Harmony bass-midrange driver with TPAIC Taga Pure Aluminum Injection-molded Chassis, oversized double magnets (Φ60 and Φ70) and heavy duty voice coil and coil former with pure copper wiring is responsible for high power handling as well as deep, precise and detailed bass and detailed, rich and spacious midrange frequencies.



TAVS Taga Air Ventilation System helps dispersing internal heat to provide even higher long-term power handling.


BASSREFLEX


BOM Bassreflex Omnidirectional Module - low-turbulence and high-velocity ports utilizing concave diffusers for increased dispersion of low frequencies. Ports are rubber coated for more luxurious look and to provide even better effect on a sound performance.


CROSSOVER
High quality, close-tolerance and precisely selected crossovers' components and internal wires for absolute sound neutrality, high long-term power and reliability.


INTERNAL WIRING
TAGA Harmony utilizes high quality internal wiring connecting crossovers with drivers assuring that incoming audio signals from receiver or amplifier will not lose any important details on the paths to drivers.


BINDING POSTS
High quality, gold-platted banana binding posts accepting raw speaker cables up to 10AWG and most popular types of connectors.
The terminal box is rubber coated for more luxurious look.