Installation
Volume Regulators
Description
Specification
Finishes
Technology
Downloads
The TVR-10IR is a volume regulator with built-in IR Receiver.

The TVR regulator is a great solution for use in basic AV systems as well as advanced multi-room installations.
TAGA Harmony TVR volume regulators allow to use a single amplifier in order to provide sound to different rooms and to be able to regulate the volume level in each of them separately (from zero to the maxium volume level set on the amplifier).

The built-in IR receiver provides access to control your audio-video equipment and allows integration into an AV control system.
The IR receiver picks up command signals from handheld remote control units and sends it through IR transmitters* to the audio-video equipment or AV control system.

* not included with the TVR-10IR

Sample use of TAGA Harmony volume regulators: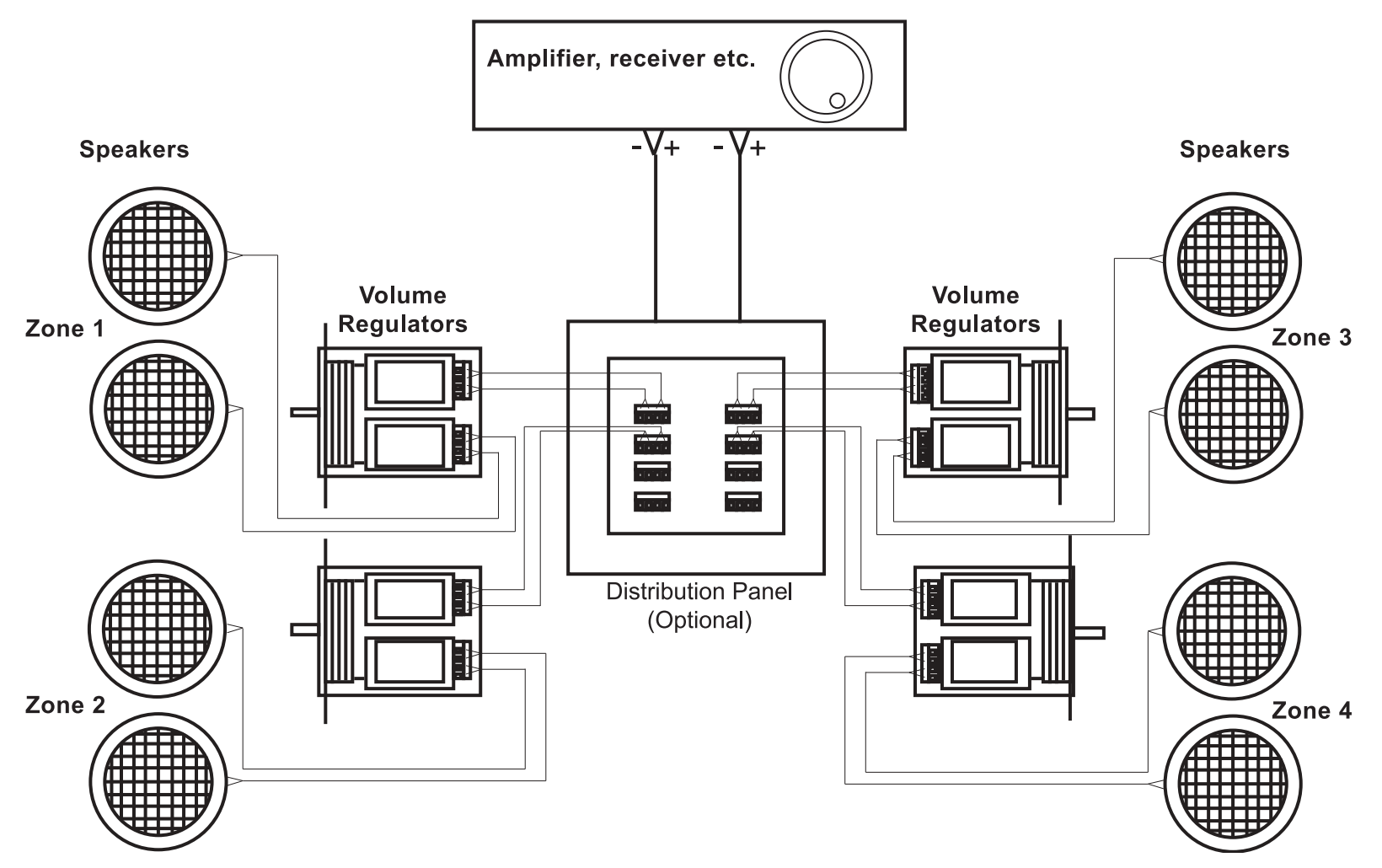 Design
Volume regulator
Built-in IR receiver
Amplifier power supported
100W per channel
Features / accessories
Impedance matching : 4, 8 and 16ohm

Decora® faceplate and insert
All screws included
Faceplate dimensions (H x W)
11.3 x 7 cm
Dimensions (H x W)
6.8 x 3.9 cm
Depth behind the faceplate
6.9 cm
Minimum cutout dimensions (H x W x D)
7 x 4.1 x 7.1 cm
Colours
White
TVR Series
Impedance matching : operation with a combination of speakers with different nominal impedance (4, 8 and 16ohm).

Easy and quick adjustment of working impedance via jumper settings.

12-step volume regulation both for rotary and slider type volume potentiometers.

Full range frequency response: 20Hz - 20kHz (±2db) at rated power.

Removable (selected models) pin cable wire terminal connectors, accepting up to 14 AWG speaker cables.

Independent grounding for use with any amplifier.

Fits most plastic electrical junction boxes.

Decora® style faceplate and insert included.